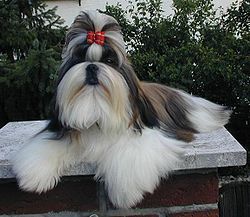 The Shih Tzu dog originated in Tibet, where they were the prize possessions of the Empresses and Palace.  Shih Tzu are extremely loving and adaptable.  They are an intelligent companion and protector with a big dog personality in a small body.
Shih Tzus have an easy to care for coat, pretty oriental faces, and a wonderful personality.
Check out the original articles written just for this site and consider some of the resources to help you enjoy your Shih Tzu dog even more. Learn to train and discipline your dog and you will have a great pet that becomes a regular part of the family.