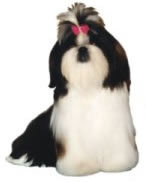 Puppies must be at least 13 weeks old before moving to their new home, if you're thinking of buying a Shih Tzu puppy please consider the following:
HAVE YOU......
Taken time to seriously consider all the ramifications of owning a puppy and the ways your life could change?
Discussed the decision with the other people in your life who will also be affected by the new puppy?
Made arrangements for the care of your new puppy? ie; Do you have a yard? Have you chosen a vet? Is there a safe place to play and sleep?
ARE YOU PREPARED TO......
Take full responsibility for your new puppy and all its needs for the life of the dog, possibly as long as 18 years?
Invest the time, money, patience and caring it takes to train a dog to be a good companion?
Receive the Joy and Happiness a Shih-Tzu will bring to your life?